Markets
We're proud to serve many markets and industries. Here are some of the industries that we serve: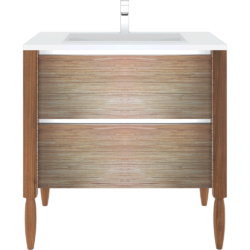 Whenever any kitchen or bath space needs to be finished with a decorative or utilitarian element, Made-to-Spec can provide the finest solution to the exact specification of an architect, designer, or contractor. Our kitchen and bath products match the look and style you require and can withstand the moisture and active usage of these important living spaces. Designs of Distinction stocks many items and can ship the same day. Custom items can ship as quickly as 2 weeks.
Made-to-Spec can produce store fixtures with any design or print, and manufacture any parts or components that cannot be produced efficiently in-house. Wooden store fixtures provide a positive aesthetic look, while also providing durability that will allow displays to be used and reused for years to come. As a turnkey solution, we can work with veneers as well as solid materials to provide a completely finished product.
Made-to-Spec specializes in any point of purchase display such as tabletops and bases with any branding. The versatility of wood grain and finish heighten the look of the products being displayed, while also providing a strong base for promotion. We use a diversity of wood species and finishes to achieve aesthetically pleasant displays that make your logo stand out.
Made-to-Spec takes great pride in providing above-furniture-grade solutions for gift and premium products. Whether it's a decorative clock base, or even wholly unique salt and pepper shakers, we have produced one-of-a-kind products to meet our customer's desire and vision. We can achieve precise tolerances and create fittings and openings to the exact dimensions of your product, and also provide branding and decorating through laser engraving, embossing, silk screening, and imprinting – we can make it look exactly how you want.
Made-to-Spec provides an endless variety of custom components to furniture manufacturers across the country, even filling modest order quantities as well as replacement parts. Brown wood furniture and furniture components can range from traditional to modern aesthetic but are all durable and cost-effective. Our lead times are far shorter than overseas manufacturers.
Made-to-Spec can work with contractors to create high-end wooden products for a range of locations such as extended care facilities, luxury hotels and restaurants, and even college dorms that can stand up to any type of usage. A high-quality piece created by Brown Wood, is cost-efficient, and can be used in a variety of situations for many years. We can create the exact look, feel, and design from fine wood with any branding or logo.
Made-to-Spec works with designers and contractors to create any promotional item for ad campaigns. These are unique pieces, showing your customers who you are in a way that is aesthetically pleasing, long-lasting, and won't break the bank. Our products are a cost-effective solution for producing large-scale advertising items that consumers will hold on to, with your logo prominently displayed.
Wood has long been cherished for its superior performance and beautiful, inviting aesthetics that command attention and draw every eye. At Made-to-Spec, we can help you achieve the same timeless quality and incomparable value in all of your products.